"Taking the Plunge for the
          community since 1999″
All of the Stony Point Seals hope this note finds you, your family, friends, and loved ones healthy and safe. Our hearts go out to those of you who are ill and recovering, and our sympathies and condolences to those who have lost loved ones.
This global pandemic and its resulting impact on our daily lives have been overwhelming. We know that the past several months have been difficult for your families and businesses. The personal pain, financial hardship, and communitywide disruption are unprecedented in our lifetimes.
We are still committed to helping children who suffer from disabilities. We would like everyone to be safe and healthy. Our Plunge into the Hudson River on Super Bowl Sunday may not happen on February 7, 2021, But we will do our best to help. 
Please consider making a charitable contribution to help a child who may be suffering from a rare genetic disease or disability. 
Mail donations: P.O. Box 654 Stony Point N.Y. 10980
Make checks out to- Stony Point Seals, Inc.
Please include a memo-  2021 Plunge
EVENTS
Fundraiser for Jerry at Lynch's Restaurant
Sponsored by Nam Knights and Stony Point Seals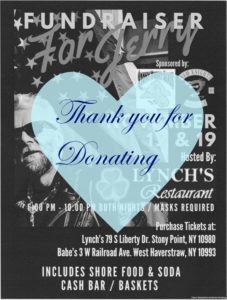 The Nam Knights and  Stony Point Seals would like to thank everyone for their support of our 2 fundraisers at Lynch's Restaurant. In these crazy times, we are thankful that the North Rockland community continues to blow us away with their generosity. But we could never have pulled it off if it weren't for the forever giving Kevin Lynch. Thank you all again.
All proceeds to help Jerry.
PARKING FOR PLUNGE ON SUPER BOWL SUNDAY
Due to weather and lack of parking, it is recommended people take the shuttle bus service being offered from 10 AM to 2 PM at the following locations:
Commuter parking across from Lynch's Restaurant
Halligan's  parking lot (by Chase Bank)
Stony Point Town Hall on Main Street

There is NO longer Parking in the US Gypsum Parking lot.
Raffle Tickets on sale at Dee's Deli, Fireside Restaurant, and Babe's Bar and Grill! 
1st prize   $2,500.00
2nd prize $1,500.00
3rd prize  $500.00
4th prize  $500.00
THE STONY POINT SEALS:
A REGISTERED 501 (c)(3) CHARITY