"Taking the Plunge for the
          community since 1999″
Thanks to your support we were able to donate $25,000. to each child last year. The Stony Point Seals are hopeful as we prepare for our 22nd jump into the Hudson River on Super Bowl Sunday on February 7, 2021. We are currently looking for a recipient(s) for our fundraising event. You can call, email, or mail us a letter. 
We are currently working with the Nam Knights with a fundraiser for Jerry Accomando.
Mail donations: P.O. Box 654 Stony Point N.Y. 10980
Make checks out to- Stony Point Seals, Inc.
Please include a memo-  For Jerry
Click here: Donations for Jerry Accomando
EVENTS
Fundraiser for Jerry at Lynch's Restaurant
Sponsored by Nam Knights and Stony Point Seals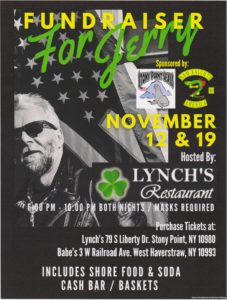 Our friend Jerry always has a "Jar on the bar" to help others.
Today Jerry needs our love and support. Jerry was recently diagnosed with Lung & Brain Cancer and is currently being treated. Friends helping friends.
We would like to show Jerry our support. At Lynch's restaurant, we will be hosting a fundraiser event from 6 pm – 10 pm. Tickets are $25.00 each including food, soda cash bar, and gift baskets. Masks are required.
All proceeds will go to help Jerry.
PARKING FOR PLUNGE ON SUPER BOWL SUNDAY
Due to weather and lack of parking, it is recommended people take the shuttle bus service being offered from 10 AM to 2 PM at the following locations:
Commuter parking across from Lynch's Restaurant
Halligan's  parking lot (by Chase Bank)
Stony Point Town Hall on Main Street

There is NO longer Parking in the US Gypsum Parking lot.
Raffle Tickets on sale at Dee's Deli, Fireside Restaurant, and Babe's Bar and Grill! 
1st prize   $2,500.00
2nd prize $1,500.00
3rd prize  $500.00
4th prize  $500.00
THE STONY POINT SEALS:
A REGISTERED 501 (c)(3) CHARITY