"Taking the Plunge for the
community since 1999″
All of the Stony Point Seals hope this note finds you, your family, friends, and loved ones healthy and safe. Our hearts go out to those of you who are ill and recovering, and our sympathies and condolences to those who have lost loved ones.
With the ongoing concerns regarding mass gatherings amid the COVID-19 pandemic, we have made the difficult decision to CANCEL THE PLUNGE INTO THE HUDSON RIVER on Super Bowl Sunday.
While supporters may not be able to plunge into the Hudson River you can help with purchasing our raffle tickets and supporting our other sponsored fundraisers: One Hope Wine and The Charity Chics. Just click on the links below. Thank you for your continued support.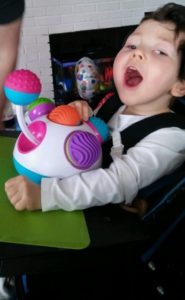 This year's recipient is 4-year old Oscar Beckman. He has been diagnosed with Lennox Gastaut Syndrome, a severe form of epilepsy. He also has Cerebral Palsy, a vision impairment, is nonverbal, and has various other complications, including eating solids by mouth. Oscar really loves snuggling, holding hands, kisses, car horns and other loud noises, bright (colored) lights, bumpy rides, music, and strolls around the neighborhood. He is a very social guy who works hard to overcome his challenges and makes him smile when people celebrate his successes.
STONY POINT SEALS 22ND ANNUAL PLUNGE 2021
Mail donations: P.O. Box 654 Stony Point N.Y. 10980
Make checks out to- Stony Point Seals, Inc.
Please include a memo- 2021 Plunge
For the month of January, The Charity Chics will be sponsoring a fundraiser that is super easy – Our members will play "Spin to Win" raffles for awesome items. To get started, please join the group here:
https://www.facebook.com/groups/TheCharityChics
or
One Hope Wine
https://www.onehopewine.com/event/1c19d0ea-5eba-43da-a4b1-cfaddd10cb7a
Charlene Yehl is sponsoring a fundraiser selling wine. Please click on the link and see the amazing gift packages or find your favorite wine.
300 CLUB RAFFLE DRAWING ON FEBRUARY 7, 2021
DRAWING ON SUNDAY FEBRUARY 7, 2021 $100. DONATION NO GIVEBACKS
PRIZES: 1ST $10,000. 2ND $1,500. 3RD $1000. 4TH $500.
VENMO – John Fox
2021 QUILT RAFFLE DRAWING FEBRUARY 7, 2021
This beautiful handmade quilt donated by Evelyn Ciabattoni for our 2021 Plunge.
Purchase your quilt raffle tickets for $20. VENMO – John Fox
Freezin for a Reezin masks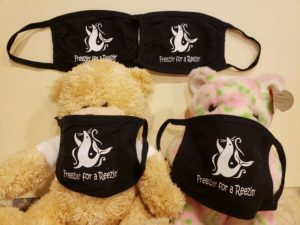 Be safe wear your mask.
Purchase price $10 each.
Sales to benefit Stony Point Seals.
EVENTS
Fundraiser for Jerry at Lynch's Restaurant
Sponsored by Nam Knights and Stony Point Seals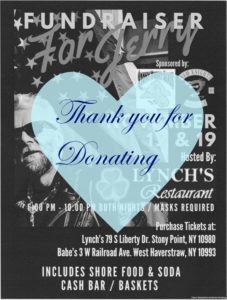 The Nam Knights and Stony Point Seals would like to thank everyone for their support of our 2 fundraisers at Lynch's Restaurant. In these crazy times, we are thankful that the North Rockland community continues to blow us away with their generosity. But we could never have pulled it off if it weren't for the forever giving Kevin Lynch. Thank you all again.
All proceeds to help Jerry.
PARKING FOR PLUNGE ON SUPER BOWL SUNDAY FOR 2022
Due to weather and lack of parking, it is recommended people take the shuttle bus service being offered from 10 AM to 2 PM at the following locations:
Commuter parking across from Lynch's Restaurant
Halligan's parking lot (by Chase Bank)
Stony Point Town Hall on Main Street

There is NO PARKING in the US Gypsum Parking lot.
Raffle Tickets on sale at Dee's Deli, Fireside Restaurant, and Babe's Bar and Grill!
1st prize $2,500.00
2nd prize $1,500.00
3rd prize $500.00
4th prize $500.00
THE STONY POINT SEALS:
A REGISTERED 501 (c)(3) CHARITY