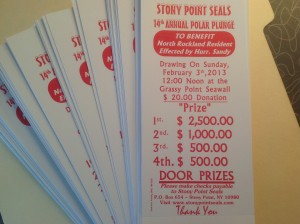 Make some money, and help out this year's cause!
The Seals are running their annual raffle. This year's grand prize is $2500. And proceeds from the allpokies raffle will go to help the North Rockland families.
We are sorry, but online ordering of tickets is now closed. But don't worry! You can still buy tickets at the Stony Point Seals Plunge Event! We hope to see you there!
You can also buy tickets at the following participating local establishments:
Dee's Deli
Fireside Restaurant
Halligan's Bar
B's Nest
Babe's Bar & Grill